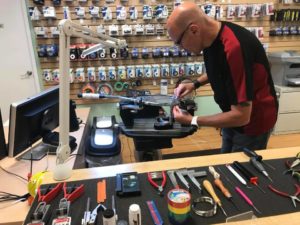 The first question you have to ask yourself is if you want discount stringing or custom stringing.
Discount stringing is for people who want a low price. They want basic string installed for the lowest possible price. They they do not care about details like string choice or tension. They are not in a hurry.
Custom stringing is for players who want their string bed configured a specific way. They want to choose their string, choose their string colour, choose their tension and maybe choose some other details, as well.
In addition to choosing these details, custom stringing clients also get to choose their turnaround time. Depending on how soon they need their racquets, they can choose from one-week, one-day or one-hour turnaround.
So the first question you need to answer is: do I want discount stringing or custom stringing?
---
Address and Hours
#310 2525 Woodview Dr SW
Check business hours posted on racquetnetwork.com
Free parking. Convenient location with many surrounding businesses and restaurants including Tim Horton's and Starbucks. We even have a grocery store in our mall so you can run some errands while your racquet is being serviced.
---
DISCOUNT STRINGING – OPTION 1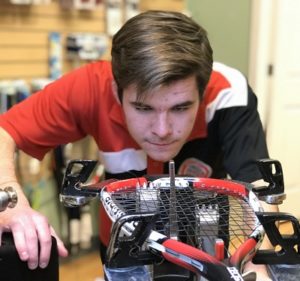 We offer on-the-spot racquet stringing every Sunday afternoon (12:00-4:00pm). This is our CHEAP option. It is $20.00 including labour and string when you order online. Walk-ins pay $5 more.
no appointment required
first come first serve
limit one racquet per customer per day
$20.00 includes string and labour
stringing only – no repairs
Details of for Option 1 are available here.
---
DISCOUNT STRINGING – OPTION 2
If it is SUPER CHEAP stringing you want, we offer that too. You will have to plan ahead, however, because SUPER CHEAP is not SUPER FAST. The good news, though, is that we are open 7 days a week including weekdays until 8:00 pm, so it is always super convenient.
Details for Option 2 are available here.
---
CUSTOM STRINGING OPTIONS
Custom stringing is for players who are serious about winning. Our expert technicians work with these players to customize their racquets to accentuate their most important skills and help them get the most of of their racquets.
Custom Racquet Stringing Benefits
Two-week warranty (on labour)
Two-week satisfaction guarantee
Bumper guard replacement available
Loaner racquets available
Your stringing specs are kept on file
Email notification when racquet is complete
Early pickup is permitted
Minor grommet repairs are free
Choose your brand, colour, tension
Certified, professional technicians
Yonex Stringing Team
Stringers at the 2018 and 2020 National Bank Challenger Events
Stringers at 2017 Canadian Open Badminton Tournament
Latest stringing technology
150+ kinds of string
Call ahead for 1-hour appointments. Badminton racquets and some Ektelon racquetball racquets may require 2 hours. No need to call ahead for 1-day or 1-week turnarounds.
---
BRANDS
Our Calgary store stocks more than 150 different types of string for all racquet sports. Come in and see us. Our techs will help you choose the perfect string.
Wilson – Babolat – Luxilon – Yonex – Head – Dunlop – Gamma – Tecnifibre – Ashaway – Black Knight – Victor – Harrow
GUARANTEE
All racquets are strung on Gamma 8800 Els stringing machines in order to ensure precise results. Every frame is carefully checked for cracks, broken grommets and other issues prior to mounting. Racquet technicians also check grips, overgrips and vibration dampeners and make recommendations as needed.
WARRANTY
Two-week warranty on labour.